About
Career Highlights
Ten Years Experience as Air Force Band Vocalist
Performing with Noteables Jazz Band throughout the Midwest
Performed for nationally televised broadcasts to include rendering the National Anthem for Oakland A's Baseball, College World Series, and Oakland Raider Football
Retired from Air Force in 2005
Completed Jazz Studies Degree in 2013 (view commencement photos and video under "College of Liberal Arts")
The following is taken from a recent publication of Wayland Baptist University, Alumni Today 2010:
What's been happening:
I retired from the Air Force in 2005 and currently attend the University of Texas, Arlington in pursuit of a degree in Jazz Studies. The highlight of my Air Force career was my time with the Air Force Band. My beautiful wife, Brigette, is nearing completion of her Masters in Nursing, and our son, Xavier, is now a freshman in high school.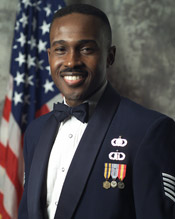 Air Force Band Bio:
Technical Sergeant William L. Mitchell, Jr. Featured Vocalist Technical Sergeant William L. Mitchell, Jr came to the United States Air Force Heartland of America Band in March 1998. Originally from Portsmouth, Virginia, he began his Air Force career in 1985 as an air traffic controller. After completing Technical School, he went to Sheppard Air Force Base in Texas, and served there from 1985-1995. While at Sheppard Air Force Base, Sergeant Mitchell received the Bachelor of Science in Occupational Education degree from Wayland Baptist University. After cross-training from the air traffic control career field, he was stationed at Travis Air Force Base, California in 1995 where he performed with the Air Force Band of the Golden West for two years. While there, he was frequently requested to render the National Anthem for Oakland A's baseball and Oakland Raider football sporting events. Technical Sergeant Mitchell also performed the National Anthem for the 2000 College World Series and, most recently, the 2003 Governor's Inaugural Ball. He has received vocal instruction from Dr. Don Maxwell of Midwestern State University, and Ruby Pleasure and Faith Winthrop, both of the San Francisco Conservatory of Music.
Noteables Jazz Band:
Technical Sergeant Mitchell performed with the Noteables Jazz Band between 1999 and 2005.  Below is a brief description of the ensemble while he was a member.
The Noteables is the jazz ensemble of the United States Air Force Heartland of America Band. This 17–piece big band tours throughout the upper Midwest entertaining communities of all sizes. From formal performances in grand auditoriums to casual concerts in the park, The Noteables are in constant demand.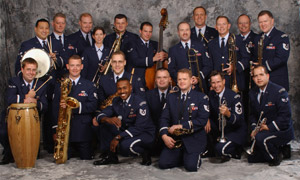 Throughout their history, The Noteables have appeared with numerous entertainers and well–known musicians that include: Bob Hope, Frank Sinatra Jr., jazz trumpeters Bobby Shew and Byron Stripling, composer / arranger Frank Mantooth, Lee Greenwood, and former Tonight Show band leader Doc Severinsen. In 1996 they were the featured entertainment for a nationally televised Minnesota Vikings game.
The high level of talent and professionalism displayed by each member enables the group to perform with unparalleled excitement and versatility. With their extensive repertoire of big band jazz selections that feature a variety of vocal and instrumental soloists, The Noteables take pride in their ability to entertain audiences of any age.